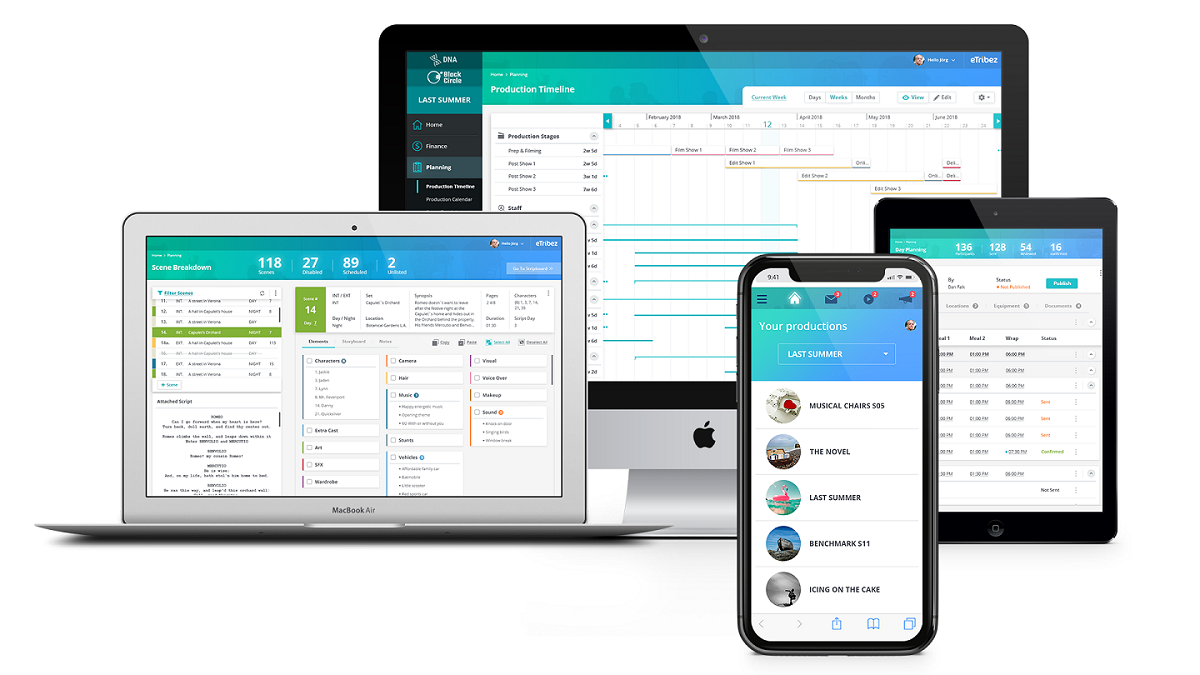 13 Feb

Product Newsletter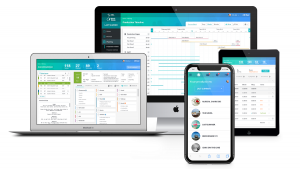 eTribez is pleased to announce the launch of its new, unprecedented eTribez Production Management Platform – an innovative, comprehensive, cloud-based solution now available to content producers for the entertainment, broadcasting, promotion, and advertising industries – on a global basis.
The benefits of the new platform offer producers of original content an easy to use platform that is accessible from any device, updates in real time, and is comprised of complementary "modules" that communicate with each other.
The new platform unifies and synchronizes every aspect of the production process via one centralized solution – where historically these production processes have never before been inter-connected. Designed to perform on a studio level, the eTribez Production Management Platform is highly secure, has been ISO 27001 and SOC 2 audited, and is GDPR-compliant.
Until now, most live action productions have been managed primarily by "pen and paper," tools such as Excel and Google Docs, or limited desktop services. These methods usually have no connectivity to each other, causing a great deal of manual work, and often leading to mistakes, inaccuracies and delays.
The new eTribez Production Management Platform streamlines all aspects of how productions can be handled today. While existing solutions like Movie Magic, Xytech, Scenechronize, and others deal with a few, specific production-based elements, the eTribez platform is a full-service, "one-stop-shop," allowing producers to manage the entire production process from A to Z – with all of the various production elements and multiple data sources completely interconnected.
The new eTribez platform not only simplifies the day-to-day work of producers, it also provides studio executives with a powerful platform by which to manage and track all cross-production operations. For the first time, producers and executives can access a cross-production view of resources, budgets, timelines, etc. through one single destination. Producers can manage five productions a year – or 100! – and see the status of each via one single, cloud-based location offering a dashboard, reports, and alerts.
The rich eTribez platform's comprehensive infrastructure vastly reduces manual work, streamlines every aspect of the production process, standardizes workflows for production staff across all departments, and ultimately improves the final production results.
For a demo of the eTribez Production Management module, email us at sales@etribez.com.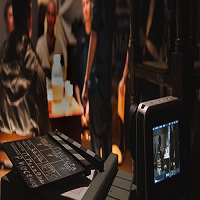 The eTribez Production Management Platform consists of six interconnected modules, which work together to handle all of the various requirements needed for managing each and every production.These modules are:
Production Planning – This module allows producers to stay in control of their production's key events and required activities – from pre-production to post-production, including production timelines, call sheets, daily reports, time tracking, etc.
Production Finance – A module comprised of powerful tools that helps manage your budget, expenses, cash flow, and revenues.
Scheduling – Through this module, a complete filming scheduling solution can be provided for any type of production, allowing for the optimization of shooting days via your online Stripboard.
Staffing – The Staffing Module offers producers the ability to assign and manage production roles and human resources, onboarding and off-boarding, and the tracking of crew timesheets.
Resource Management – A powerful module for managing each production's physical assets – including locations, equipment, and facilities.
Cast Management – A fully-customized solution, this module enables producers to handle all their casting and cast management needs.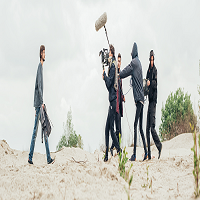 The eTribez Production Management Platform's comprehensive, end-to-end solution provides numerous benefits to producers of creative content:
Provides real-time, high-level information regarding budgets, timelines, and status of all resources to both production and studio executives alike.
Connects everyone working in production through one central site.
Intuitive use is easy for people working across all departments: the platform grants access to specific information to relevant staff only.
Wherever the production takes you, platform users have access to all production information through any computer or mobile device – with no installation needed!
The platform offers management of all production resources and budgets at one glance, helping to quickly identify synergies and distribute forces most efficiently – across multiple productions.
Removes delayed communications and reduces costs and friction.
The platform empowers users to plan in advance and react in time, instead of having to scramble with undetected deadlines later – thanks to real-time capture and control of progress and costs.
Provides all production teams with clarity and standardization, allowing each individual to play their part within the production process.
Reduces the massive workload of individual production team members.
The eTribez Production Management Platform also helps maintain and archive production information, thus becoming a valuable "company asset" for future productions:
Significantly saves recurring research and maximizes efficiency.
Creates a studio knowledge base – with information to re-use across multiple productions.
Monetizes production experiences for better – and more consistent – negotiations and decision-making.
For a demo of the eTribez Production Management module, email us at sales@etribez.com.